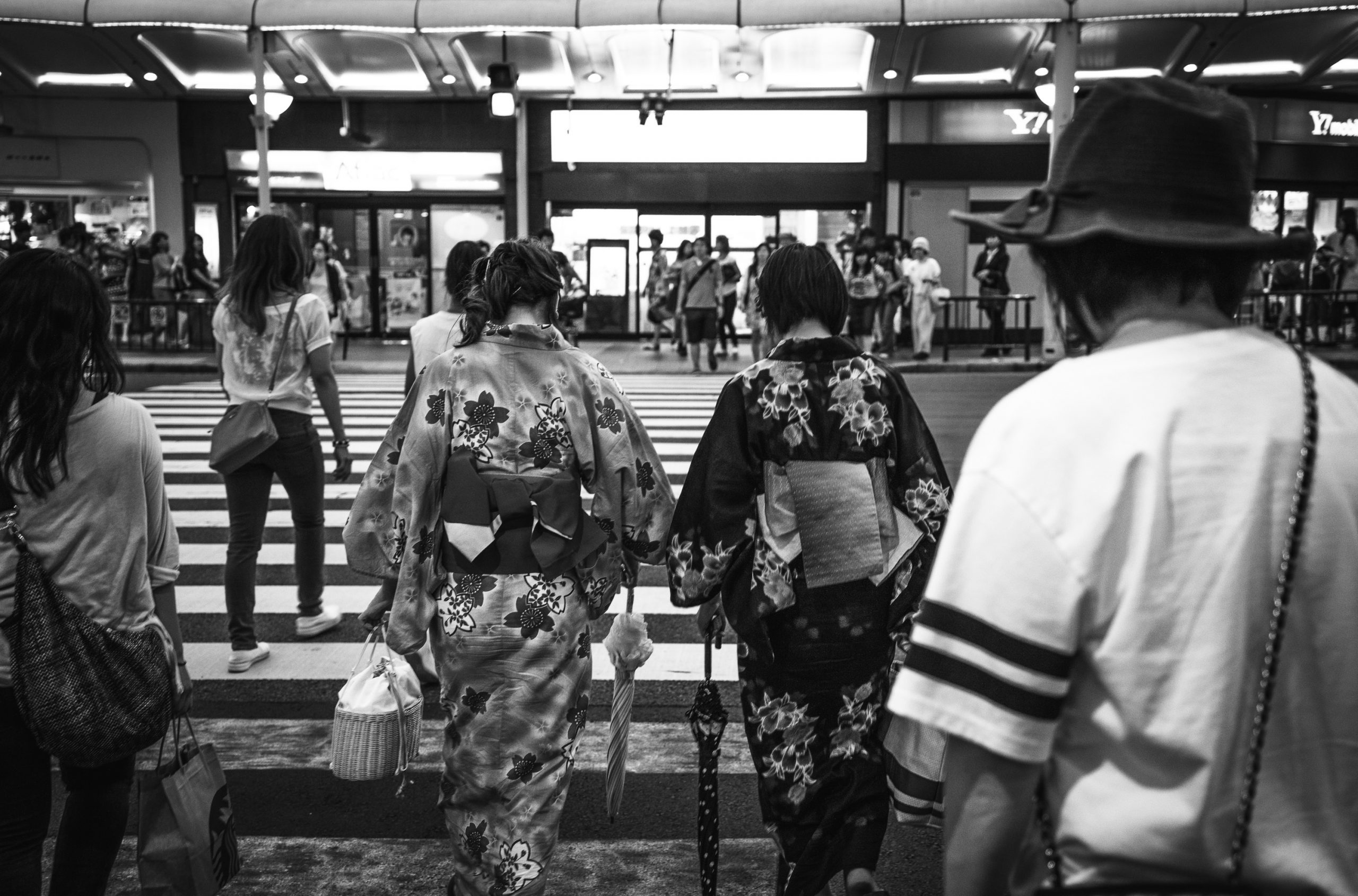 Japan is a fascinating place to travel and photograph. The allure of the rich culture and history of this country attracted my wife and I to travel and explore it. The stunning temples and shrines, the architecture, food, but more importantly; the kind-hearted and warm people that call this country home. I made the effort to turn my camera away from the landscapes and architecture to try and capture the people and faces that make this country so incredible. Here, along with some stories, are the photographs I captured of the people of Japan.
A nation's culture resides in the hearts and in the soul of its people.

Mahatma Gandhi
---
Getting caught up in Japans chaotic rush hour is an experience in itself. Tokyo Station is shoulder to shoulder with commuters all trying to get to where they need to be. Fighting your way through this hectic scramble of people whilst trying to read the signs and work out which platform you need to be on can be quite a challenge.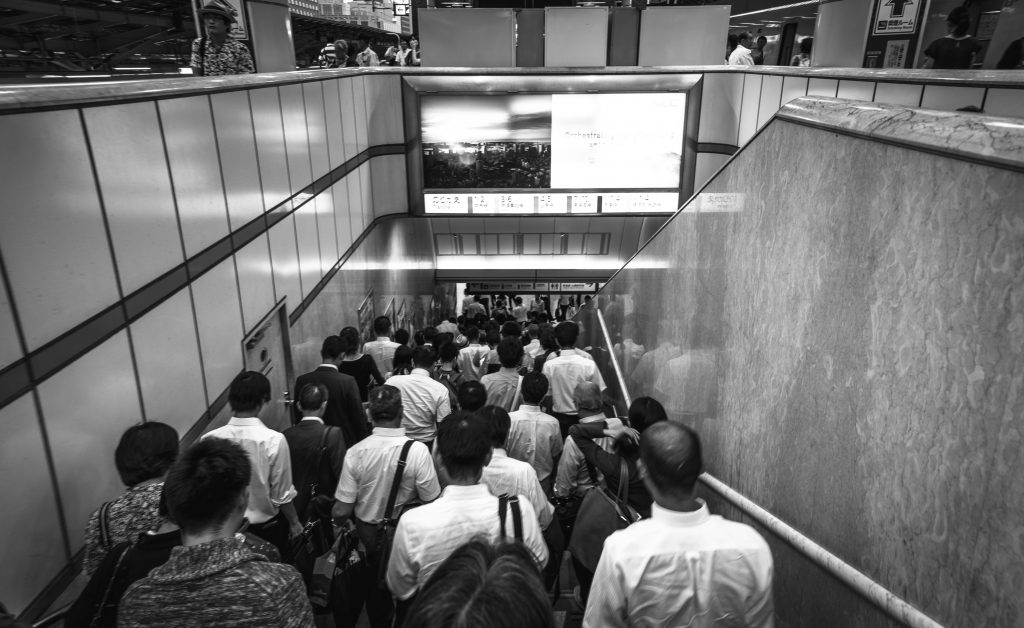 ---
Japan has the best rail network I've ever traveled on. Looking at a subway map is like looking at a bowl of spaghetti, but once you've figured it out it becomes pretty self explanatory. You can get everywhere you need on this network within a short amount of time. All the trains run perfectly on time, so accurately in fact that you could set your watch to them. When you do have trouble working it all out, there is always a helpful passer-by to offer some assistance and point you in the right direction.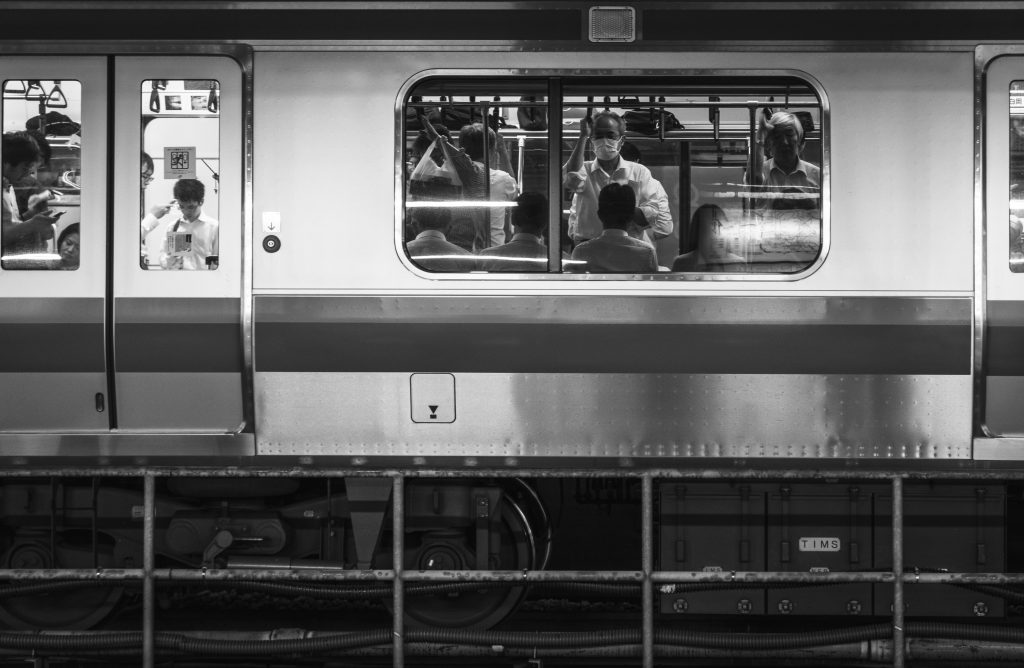 ---
I'm unsure if it's because Japanese people don't get enough sleep, or if school and work hours are longer and more hectic over here, but everyone falls asleep on the subway. Everyone. It's comedic watching passengers nod off and sway around with the movements of the train. Even funnier is when two complete strangers will end up resting on each other, sharing an unconscious moment of togetherness during their daily commute.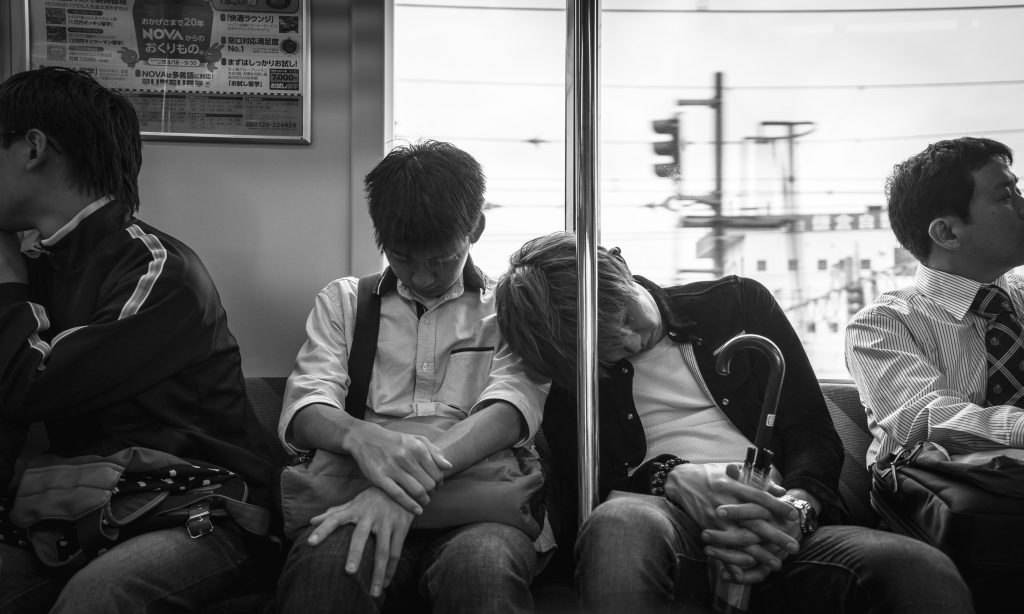 ---
Subway stations can be so random, one day you'll walk down the stairs and the place has been turned into a daycare centre. Screaming children and socialising mothers as far as the eye can see. The next day you'll walk down the stairs and the place is a dance studio. I can't explain it, but I just love how random this country is.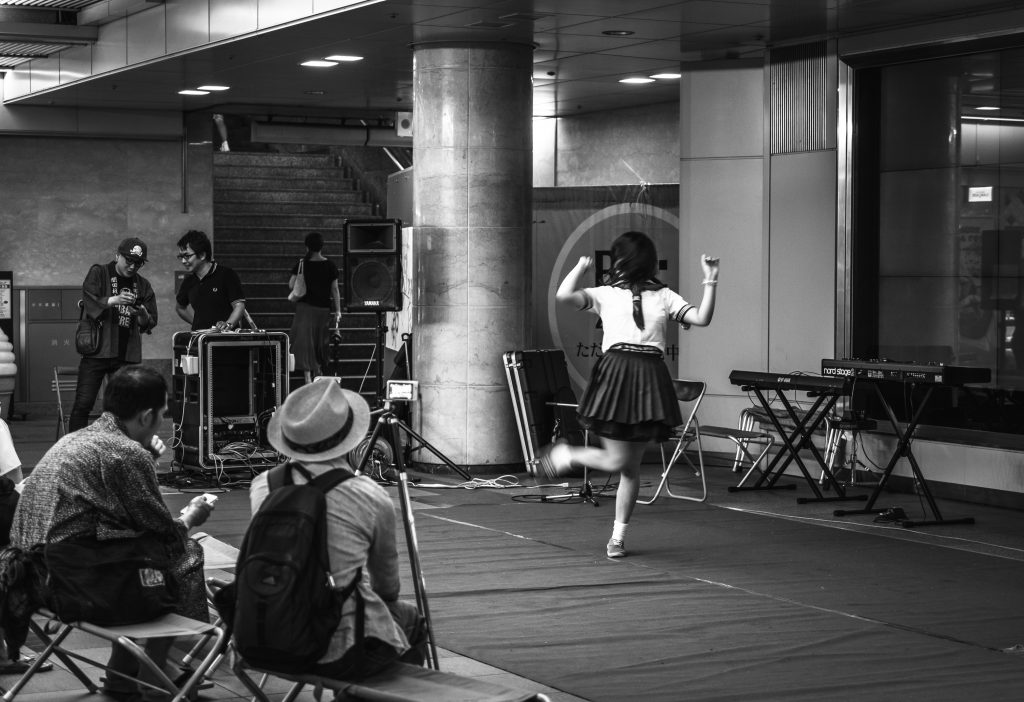 ---
Once you're out of the busy train network it's not at all hard to find a nice place to sit back and relax in Japan. There are many large parks, temples and shrines tucked away in the dense cities. A great place to get away from the noise and just take some time out.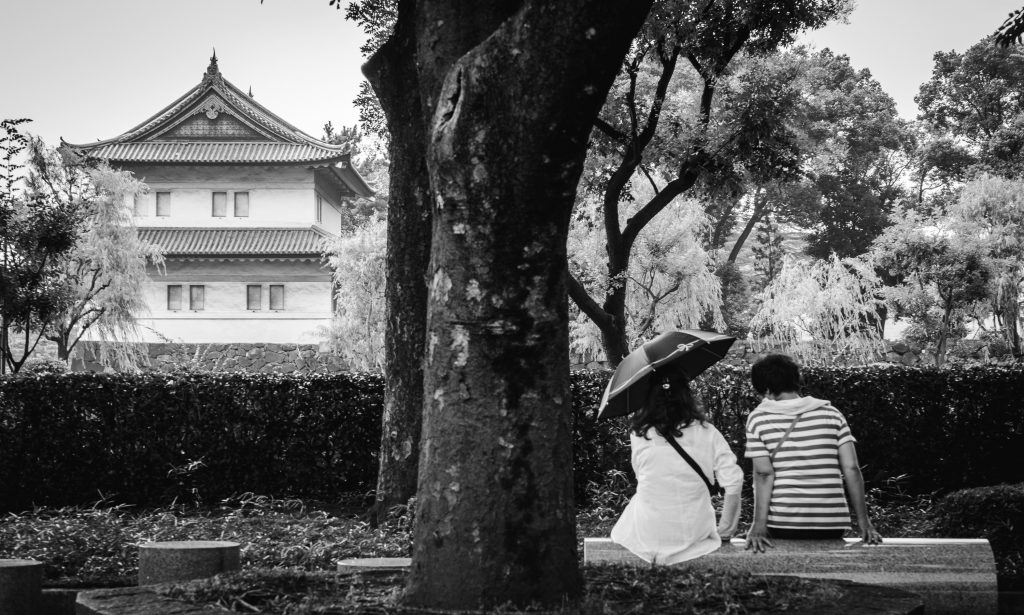 ---
I think one of the favourite pastimes of the Japanese people is just sitting around and taking time out. Socialising in parks and watching life go by, it sounds like a great way to spend an afternoon to me. We got well off the beaten track in Arashiyama, wondering around small country villages and observing how life ticks by ever so slowly out here in regional Japan.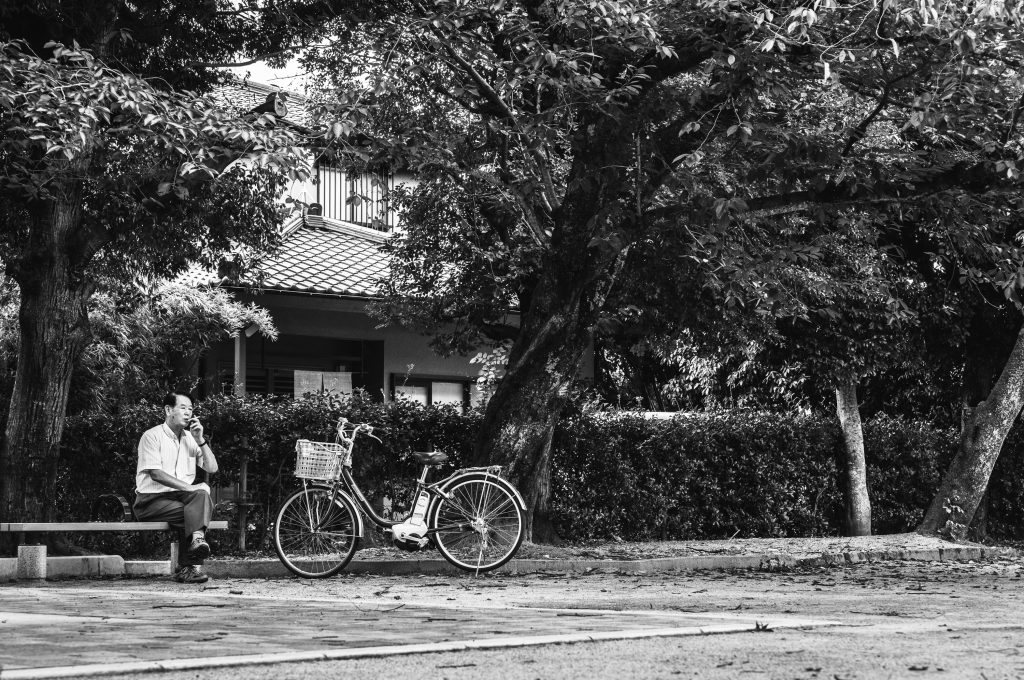 ---
The temples and shrines in Japan are stunning. There are so many of them, each with their own character, unique elements and beautiful setting. Some of them are nestled so closely to the city that they become a thoroughfare for commuters. I wonder if they stop and admire them from time to time and appreciate the history, or do they march on through each day without a second glance.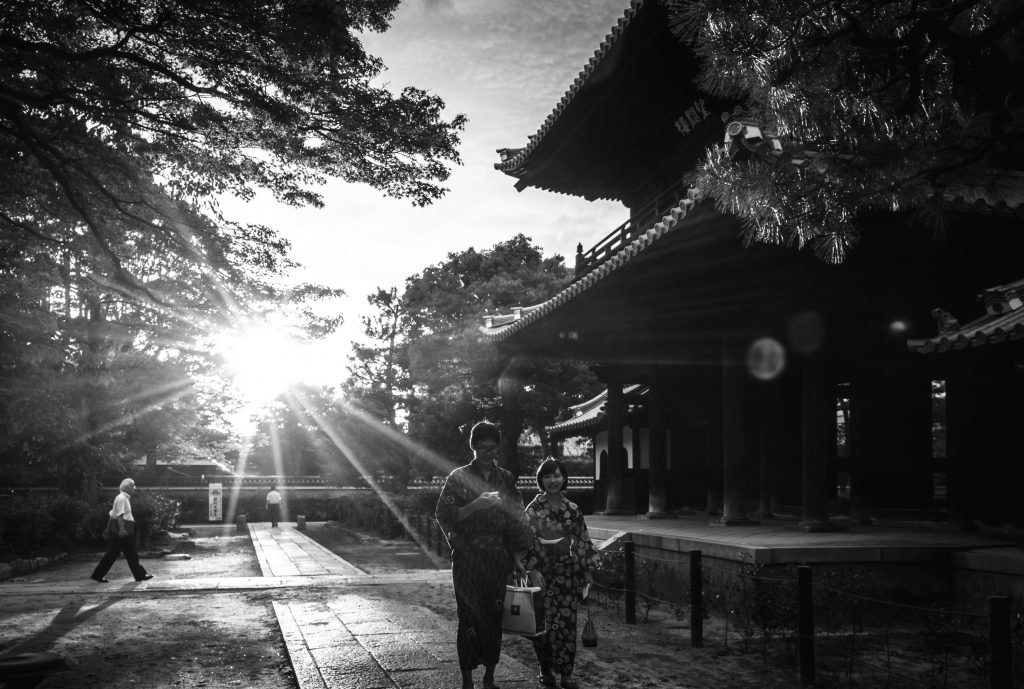 ---
Japanese students are often seen wondering these sacred sites, exploring and learning about the history and significance of the places. A couple of times we were approached and interviewed by students studying history and tourism and asked about our travels through Japan and the sites we had visited. Always so polite and friendly, however the language barrier often made for an interesting experience.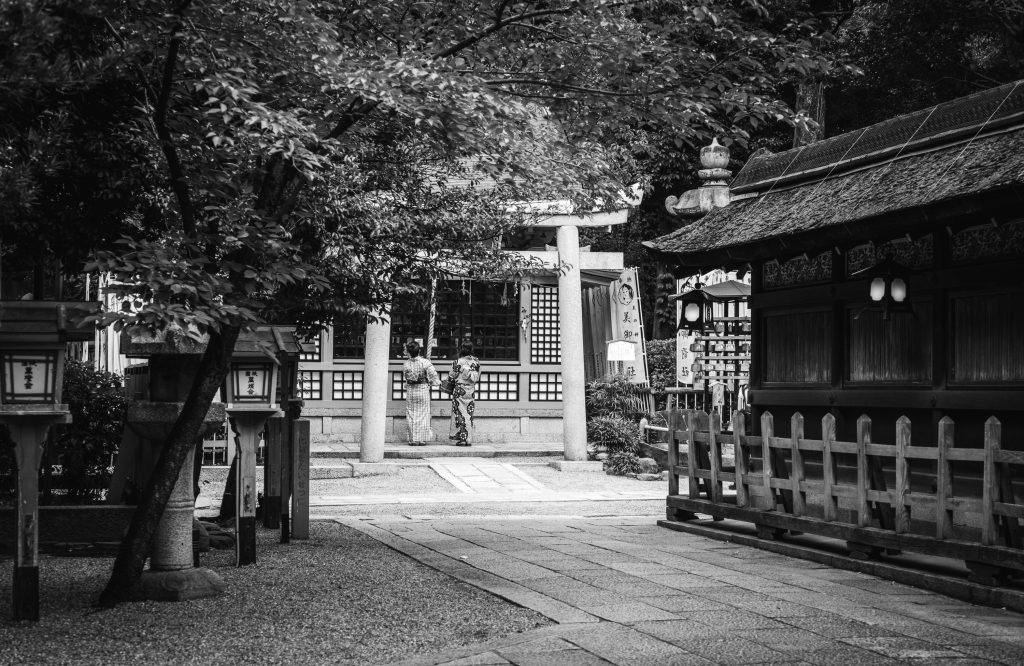 ---
One thing the Japanese are exceptionally good at is their gardens. I've seen some of the most spectacular and beautiful gardens whilst in this country. Here in the gardens of Kosoku-Ji Temple in Kamakura, a girl in traditional dress was happy to pose for me amongst the large lotus plants.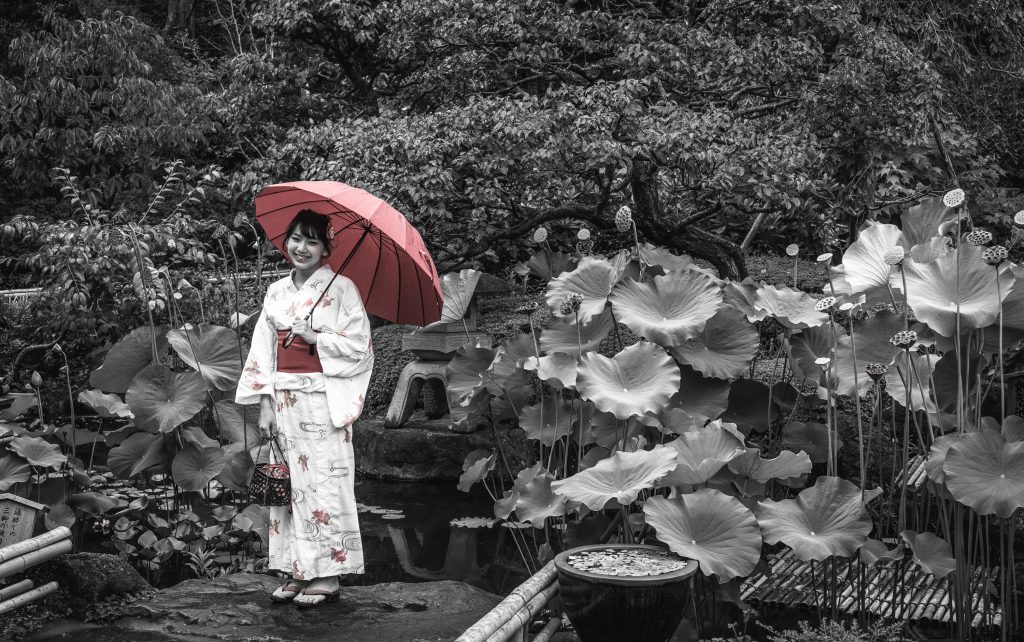 ---
Another shoulder to shoulder location, the popular and trendy Harajuku street. A hot-spot for the fashion conscious Japanese youth. Walking these streets was an eye opener to some of the crazy trends and outfits the young people here get out and about in.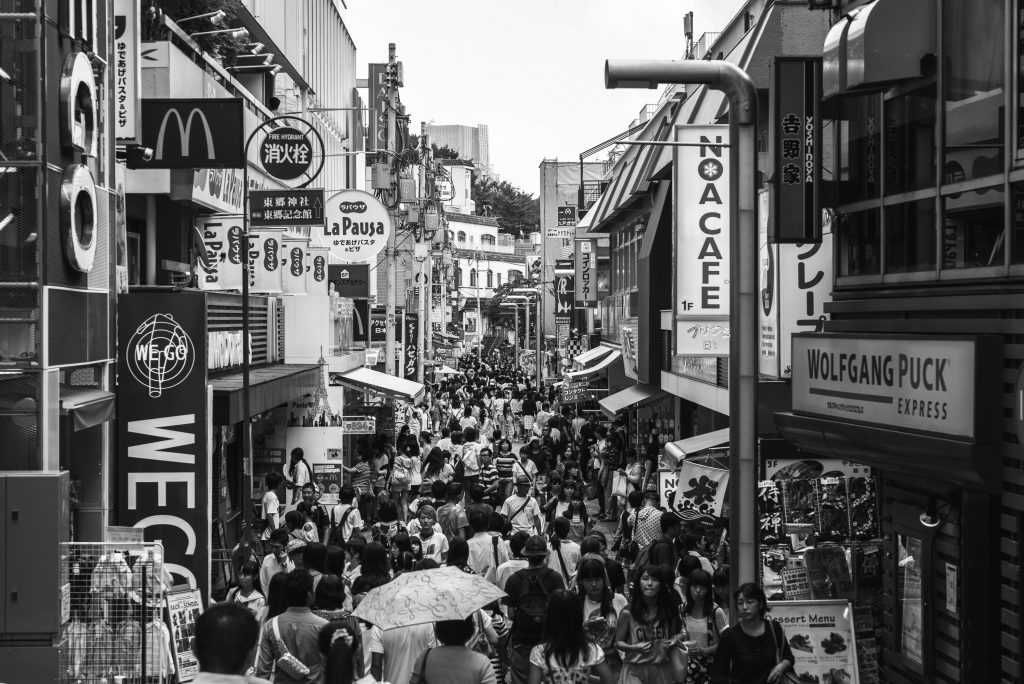 ---
Bars, cafes and restaurants are tucked away in every little nook and cranny of Tokyo. Hiding under bridges, in quiet alleys and down dark stairs underground. These places are buzzing with activity long into the night and create a great atmosphere when wandering the streets.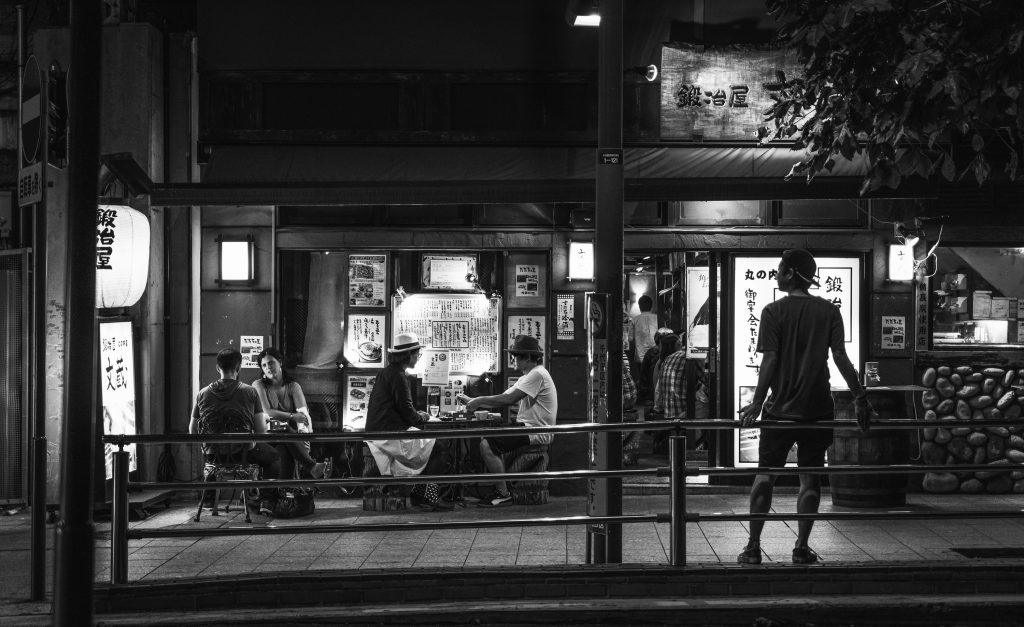 ---
A couple of chefs take some time out to read the days news and have a quick meal before firing up the kitchen again ready for the next service. It's like this country never shuts down at times.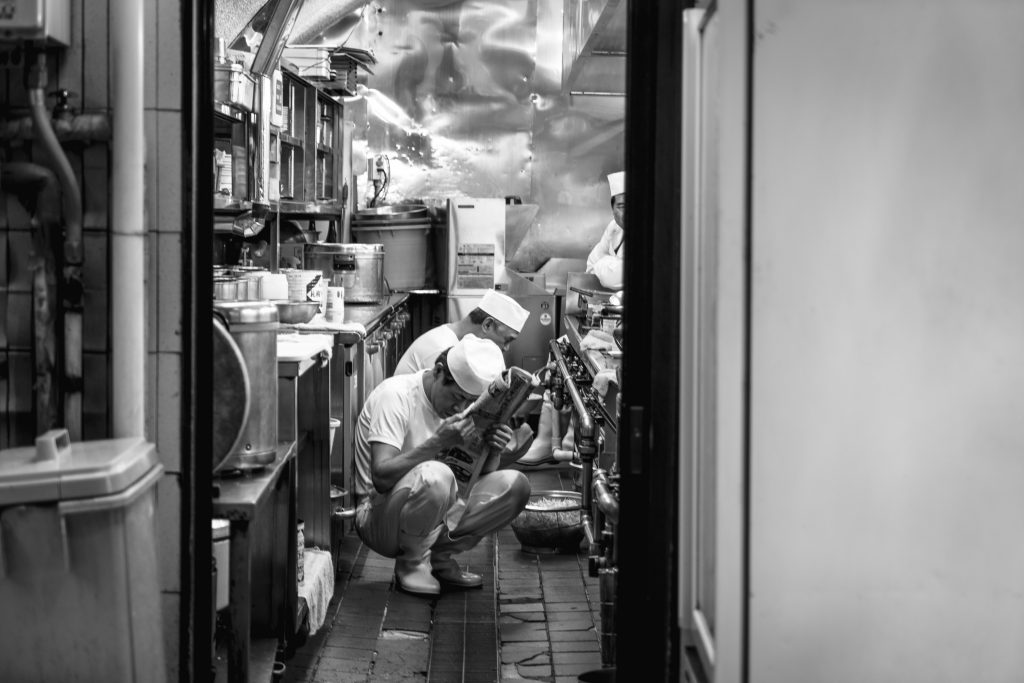 ---
You don't notice many homeless people on the streets of Japan, I think the whole time traveling I only noticed a handful of them, much less than you notice back home in Australia. Each night as we returned to our hotel in Kyoto we would see this man, all of his possessions hanging from his bike, just watching the afternoon pass before him.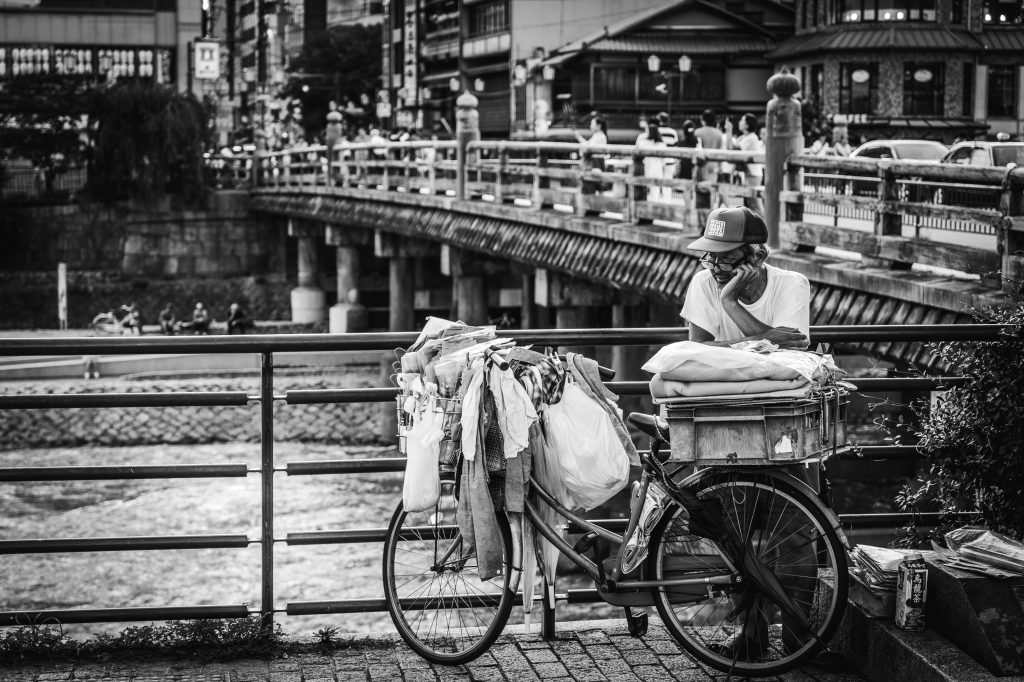 ---
In a lot of the tourist hot spots you find these little vans all decked out to serve coffee or food. They park up on the street and wait for the morning rush of tourists to stroll on by. The rain was falling and the afternoon business must have been slow, this vendor had his head buried in a book.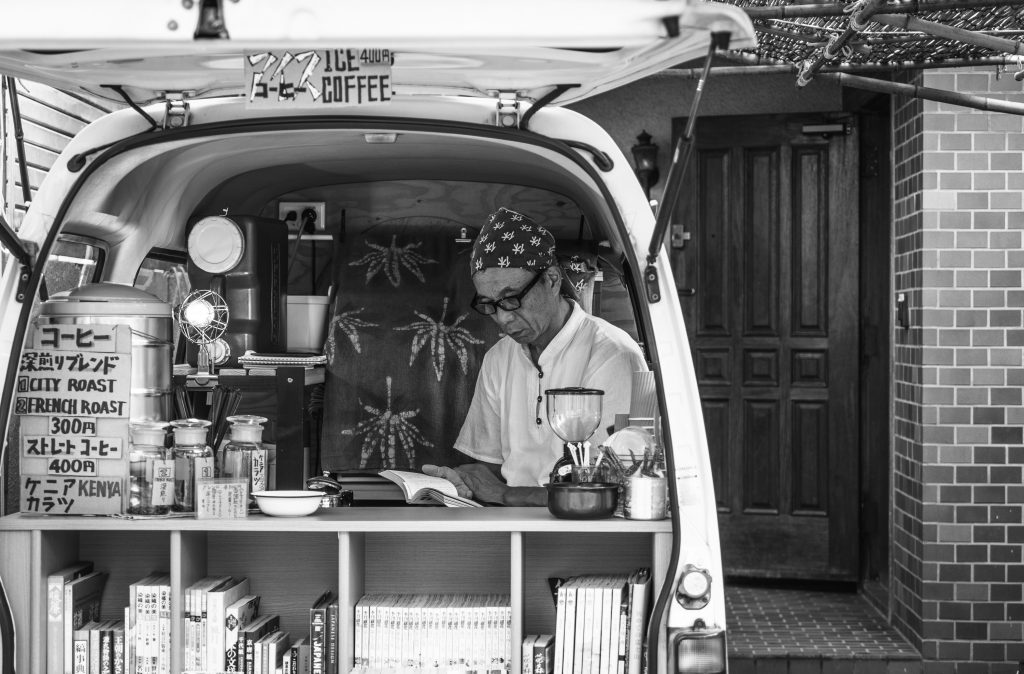 ---
Japan is a blend of cultures new and old. I love that in the large cities obsessed with fashion and technology you still come across the traditional. It's common to see people young and old wearing the traditional Kimono, which stand out like bursts of colour against all the business attire around them.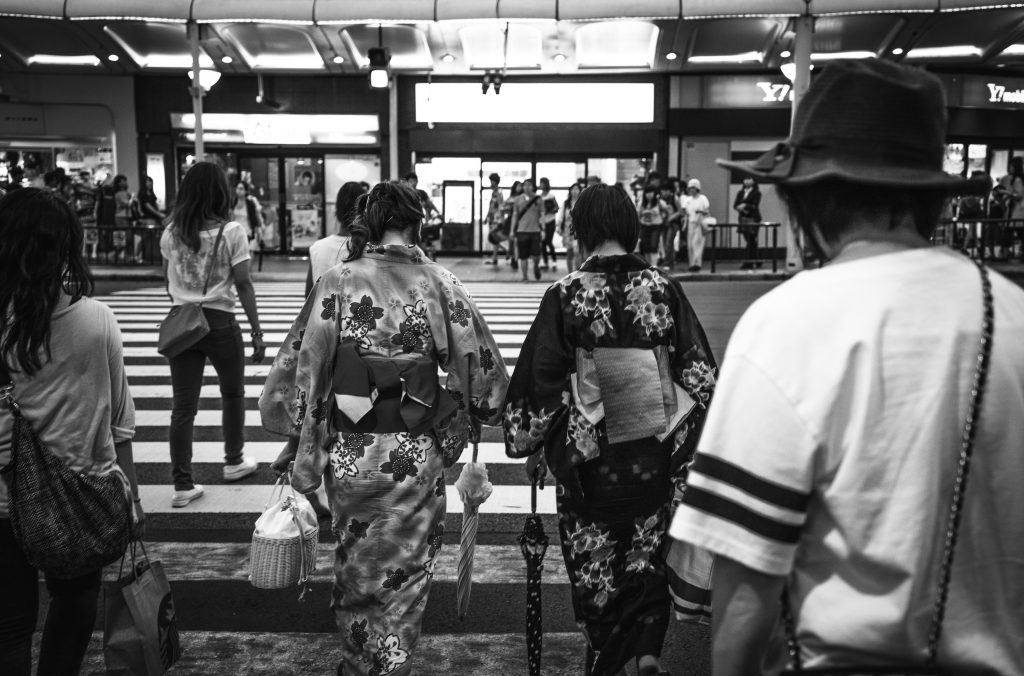 ---
The majority of the elderly you see are wearing traditional dress. The aged are very much respected in this culture, young people will jump out of their seats to offer them to an old lady, or help them with their luggage up the stairs. I'm sure this wise looking old man would have a few stories to tell, if only I could speak Japanese.
---
The nightlife around Japan is always alive with activity. This particular spot in Kyoto would always have people playing music and beating drums, groups of people gathering near the river and people on the street trying to coax you into their karaoke bar or restaurant. A great fun and lively atmosphere to be immersed in.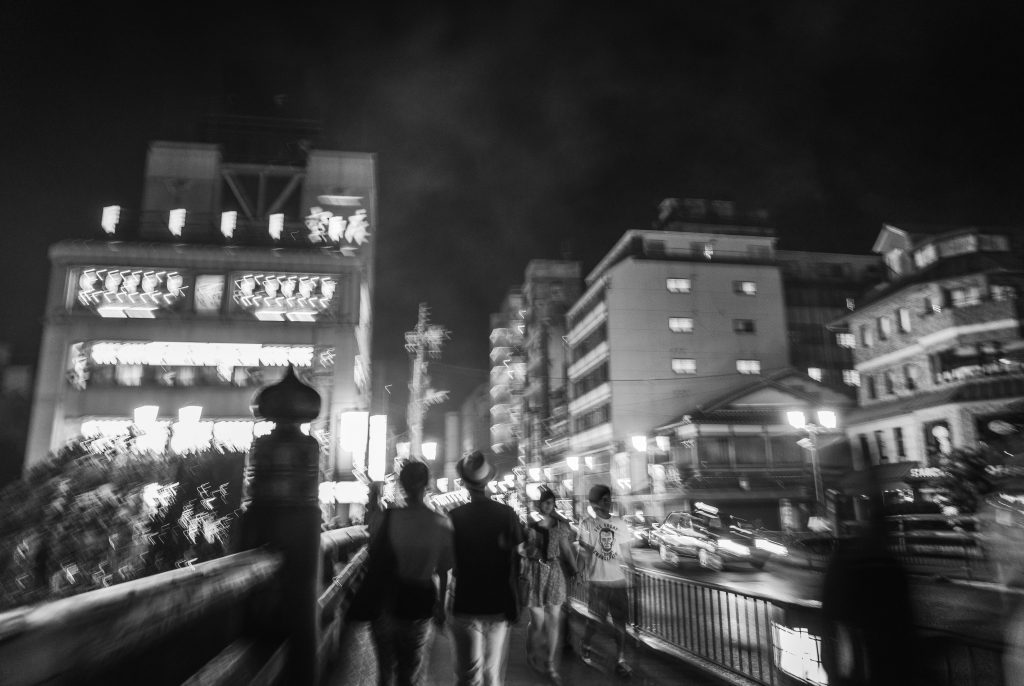 ---
As the rain comes down umbrellas pop up everywhere and the streets become a battleground. Jousting your way through the crowds of umbrellas with your own is quite amusing. It doesn't help when the majority of people walking along have their eyes transfixed on their phones and have no idea what's going on around them.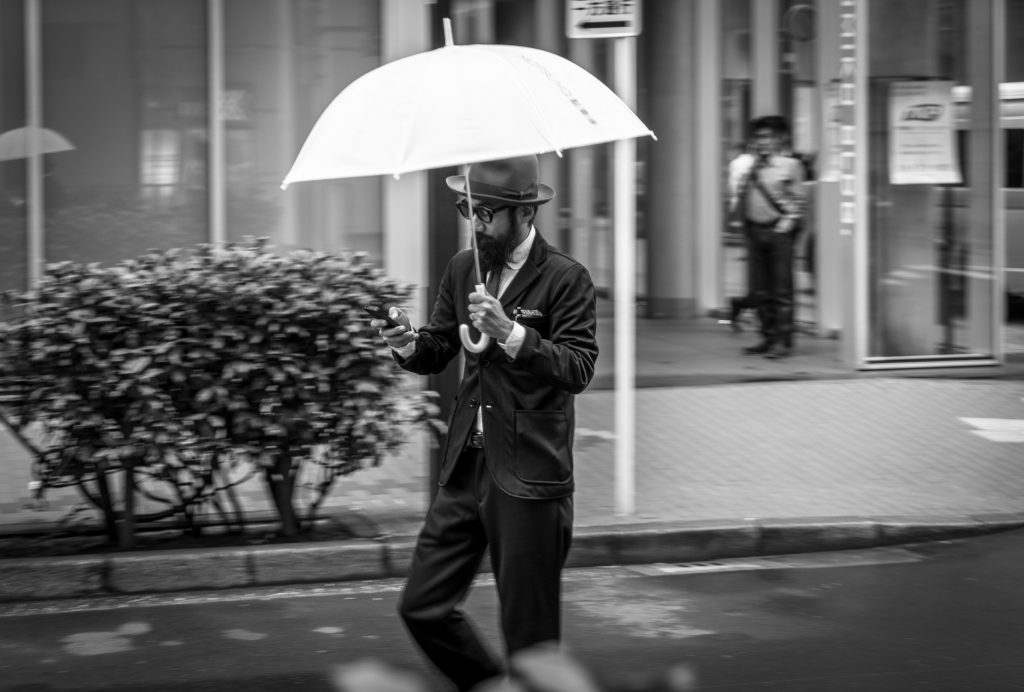 ---
Shibuya crossing, the busiest pedestrian intersection on the planet. It is estimated that over 1 million people cross this intersection each day, with up to 10,000 people crossing in a single light cycle in peak hour times. The peak hour rush fires up again and the people of Japan make their way home for the night.
---
---
Photographs taken from multiple trips to Japan;
2014, 2016, 2018.
Photographed with Sony A7R + Zeiss 24-70mm f/4.0 and Sony G-Master 24-70mm f/2.8
If you like these images, check out my Architectural Portfolio.